Yes, Lightcloud can do that!
Lightcloud has more capabilities than any other lighting control system.
Remote Management
Lightcloud can be controlled from anywhere. There are no servers to maintain or software to install, and Lightcloud is completely independent from your corporate IT networks. Just log in to the web app from any internet-connected device.
Dimming
With Lightcloud, you can dim individual lights or use scenes to instantly adjust your light levels for any area in your building. Combine dimming with occupancy, daylight harvesting or scheduling to layer in more energy savings. High-end trimming ensures that you always save a little bit off the top.
Scheduling
Tell Lightcloud when to illuminate a zone and it will take care of the rest, automatically adjusting your schedule based on sunrise and sunset times at your location. Last-minute change? You can tweak schedules from your smartphone, or just call us and we'll make the change for you immediately. Save energy—and money—like never before.
Occupancy & Vacancy
Light the spaces you're in, save in the spaces you're not. Lightcloud sensors save you energy wherever you are. Need to change settings? Ditch the ladder and grab your smartphone. Or just call us.
Fully adjustable from the cloud! There are no dip switches of any kind, so sensitivity adjustments are a cinch.
Sensors support advanced features like multi-stage vacancy events and can be scheduled/disabled for parts of the day.
Daylight Harvesting
Beautiful day? Let sunlight do the job and save your lights for a cloudy day. It's simple to adjust, and we can even do it for you remotely. Lightcloud supports open and closed loop daylight harvesting for indoor and outdoor fixtures.
Personal Control
With Lightcloud, your lights are always in your hands. Easily make adjustments on your mobile device, desktop, or tablet. Office workers can tune their workspace to use only what they need—the rest is savings.
Demand Response
Utility providers will actually pay you to turn your lights off during times of peak energy consumption. Take action with the responsive Lightcloud system and reap the savings. Lightcloud has both manual (scenes) and automatic demand response capabilities (openADR 2.0b Certified). Automated demand response is all handled in the cloud and doesn't require any additional hardwire or wiring.

User Permissions
Lightcloud has two user types: administrators and standard users. Users can be associated with multiple sites for seamless administration. Standard users can be granted permission to view or control sites, areas, or individual zones.
Link to: Energy Savings
Energy Monitoring
Unlike other systems that use calculated energy monitoring, Lightcloud devices monitor actual energy use; utilities love us! Energy data can be used to prove savings for utility rebates. Historical data is maintained to help find additional energy savings opportunities.
Conditional Logic
Lightcloud gives you complete control over your system. Automations provide Lightcloud systems the ability to create conditional logic. For example, Sensors could Daylight a space during business hours and function as a vacancy sensor in the evenings.
Cloud Updates
Lightcloud is constantly being improved and adding new features. As new features become available, there's nothing to do; it all happens in the cloud. The next time you log into the system the new features will be available.
Alerts
Lamp burns out, device offline — get notified immediately when there's a problem, so you can quickly address issues before they become problems.
Configurable Defaults
Devices can be configured to go to precise states on power-up or signal loss. For example, you could have hallway lights turn on after a power failure.
System Integration
Lightcloud works alongside other systems via BACnet or Triggers.
BACnet integration allows for Lightcloud to be controlled by other building management systems (BMS) for unified schedules or alerts.
Triggers allow Lightcloud to work with almost any other system via contact closures.
Multi-Site Management
Lightcloud eliminates the difficulty of managing multiple buildings and locations by bring centralized control to your lighting. Users have access to all of their sites with one login and can access them from anywhere. This is great for comparing energy use, adjusting settings and schedules remotely, or unifying lighting scenes across multiple locations.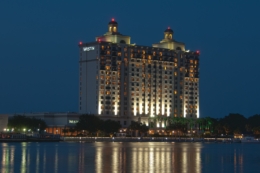 Easier control, less maintenance, and enormous energy savings are all realized through a simple, easy wireless lighting upgrade by Lightcloud.